Count Down Dracula
This game was made as part of the Ludum Dare 51.

Game is playble in browser, but we'd recommand the windows version for a smoother experience!
Play as Count Dracula, and draw your powers from the blood you absorb. Your powers allow you to delay the sunrise!

Kill your enemies and drink their blood to make the night last longer, and defeat the Archbishop who has unleashed his hordes of followers to kill you!
Time is your resource. You can spend time to strengthen yourself! For every 10 seconds spent, you will be able to choose an upgrade which will help you end the run.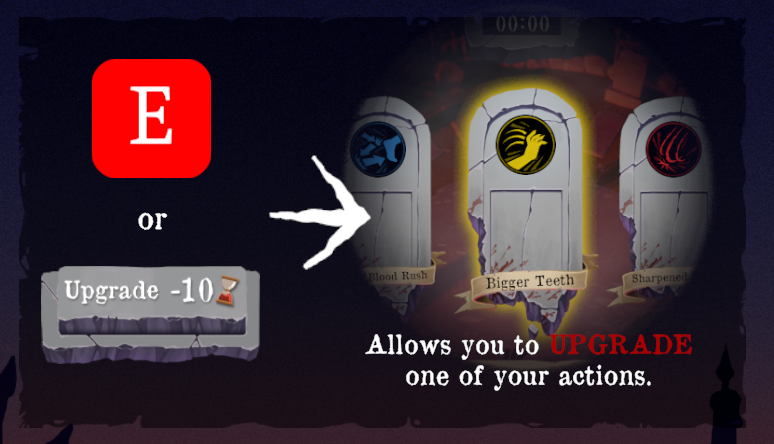 But beware, if the time countdown reaches zero, the sun will rise and you will burn in agony!
-----
CONTROLS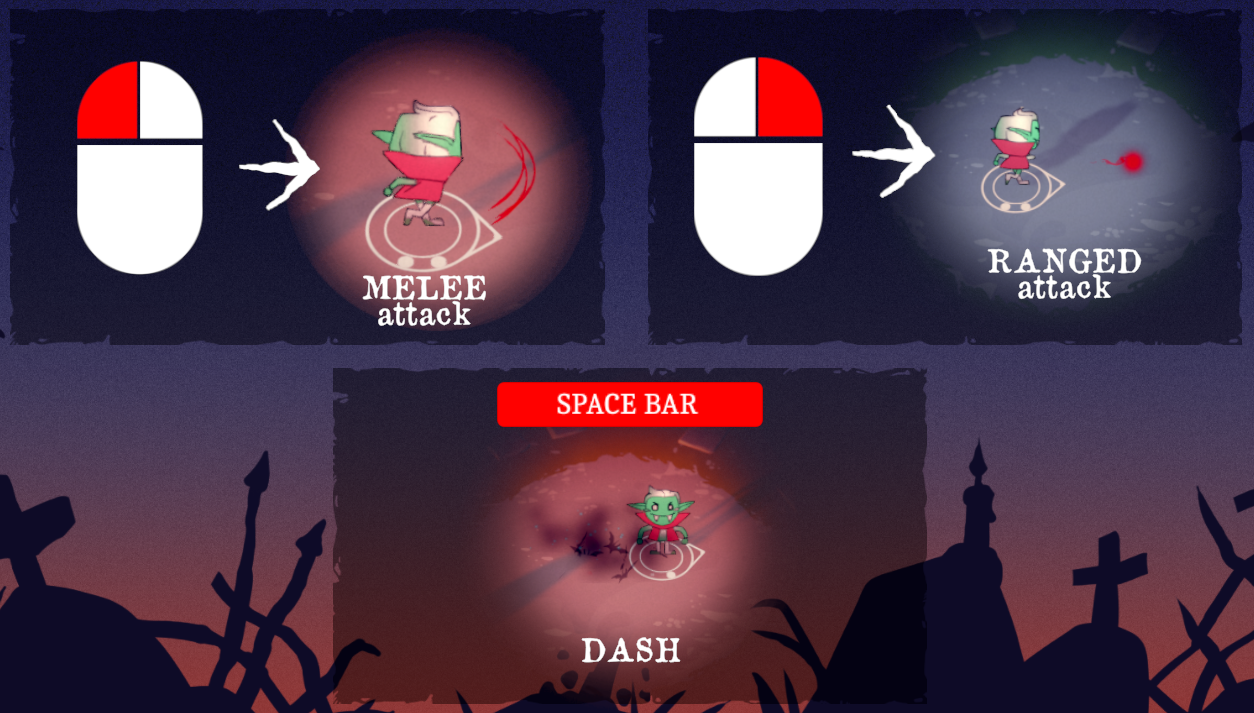 -----
COMBAT
Hit enemies to damage them. Be careful of their own attacks.
Once damaged enough, enemies enter in a VULNERABLE state for few seconds. DASH into VULNERABLE enemies to execute them and get some precious seconds back to your counter!
Some enemies get to be BLESSED. While BLESSED, they are immune to your RANGED attacks. Attacking them with MELEE will break their blessing.
-----
CREDITS
A game by the Guilloteam:
Adrien Jeannerod : 3D background artist
Clément Ribeyre-Soret : UI & FX artist
Delphin Casado : Music & Sound Design, 2D artist
Jacques Champely : Developer
Julien Revel : Developer
Michaël Assing : 2D & FX artist artist
Comments
Log in with itch.io to leave a comment.
Very good game. Will you make a full game from it?
Hey thank you ! We have no plans to turn it into a full game currently, because we're already working on our previous jam game, How to Dice Mushrooms. I suggest you to try it, you might like it, and we need feedback to make it as good as possible !
really fun! wish i could've played a run longer to become some vampire god.
Great job! How did you guys get the damage screen effect to work in WebGL? I know you can't use post processing so I am impressed.
Thank you very much!
I'll let our devs answer with maybe more specific details, but I know that this effect is handled by a shader which swap element colors and not through post process!
Actually you can now use postprocessing in webgl ! We use some depth field and color correction, but the damage effect is not actually done with a postprocess.
We have quite an original way to make assets : textures are not drawn using normal colors, but instead look like this :
The idea is to make the rendering using a palette of 4 color : in the texture, the red component is the amount of the first color, the green the amount of the second, etc. It forces artists to use a reduced amount of colors, which is great for graphical coherence, and it allows us to vary the palette over time to do a lot of cool effects. Because palettes are just a set of color, it is possible to mix them using the Color.Lerp function.
When the player gets damaged, we make all palettes turn into black except for one color that is very bright white (it allows hdr colors to make things glow), but it's also used to make the day/night effect more visible, and to make the enemy hurt animations. I really love this system, it's quite powerful !

Wow! That is a really cool system! I am very into restrictive color pallets and that is a super smart way to do that.

Thank you so much for the explanation!
An awesome game by GuilloTeam, as usual!

Nice gameplay loop, the combat is satisfying when you get used to it!
Upgrades implementation is superb - weighing up the choice between your remaining time and an upgrade makes for a good time!
Art and music are also great, as I have come to expect from you guys!

Unfortunately I encountered a bug - the Archbishop disappeared underground and never returned!

Congrats on making a great entry for Ludum Dare - i'm sure you'll do really well :)

Thanks a lot Harvey! Glad you liked the game!
Yeah, some bugs remained, testing time has been limited to its minimum haha!